"Lithium; the commodity winner money can't buy."
We started investing in developing technology for lithium recovery in 2018; we now have a working process.
Demand for sources of low-carbon, genuinely sustainable lithium for the electric transport revolution will likely continue for many years. We plan to contribute substantially to satisfying this demand.
We have successfully recovered lithium from low, moderate and high-grade brine types covering Europe, the Americas and New Zealand at laboratory scale. We will move to pilot stage in 2022.
The Imperative for Sustainable Direct Lithium Recovery
Lithium is currently extracted almost entirely through hard-rock mining or evaporation from salt lakes (or salars). Both techniques are widely seen as being environmentally impactful, and there is a strong imperative for sustainable direct lithium recovery technologies.
Lithium is sourced from salars, typically located from the Lithium Triangle in Argentina, Bolivia and Chile.
Subsurface fluids are placed into large evaporation ponds to produce a concentrate, which is typically refined in China.
Lithium is commonly sourced from spodumene, a lithium mineral derived from pegmatite rock. Li2O concentrations typically vary between 1 – 8%.
The process involves excavation, crushing and extraction of a lithium concentrate, which is typically then refined in China.
Typical direct lithium extraction
Direct lithium extraction is the process of recovering lithium from subsurface fluids through a direct physical or chemical process.
It is best practice to reinject the fluids back underground once the lithium has been recovered.
Lithium concentrations in the geothermal fluids used to generate geothermal power are generally low. Few if any existing technologies can recover lithium from the silica-rich fluids at these sites.
Our mature silica-recovery technology makes us uniquely able to target lithium alongside geothermal power generators. Removal of colloidal silica is highly valued by geothermal power generators as this eliminates costly scaling of reinjection pipes and wells and enables further value capture through utilisation of waste heat. Click here to learn more. The presence of existing production and reinjection wells and other site infrastructure (power and water supplies) makes this an attractive proposition.
To be relevant at geothermal power generation sites, we need to develop a direct lithium extraction (DLE) technology with the highest possible recovery rate. Our initial lab-scale work was undertaken at Ohaaki geothermal field in New Zealand where the lithium concentration was 10ppm. Our technology proved successful, with a 90% recovery rate.
Our work has attracted the attention of global lithium resource explorers, developers and producers.
We have undertaken lab-scale lithium recovery trials on two synthetic brines; the first from the UK and the second from Argentina's Lithium Triangle. Lithium concentrations in these samples ranged from 50ppm to 750ppm.
In all cases our technology proved successful at lab scale with recovery over 90%.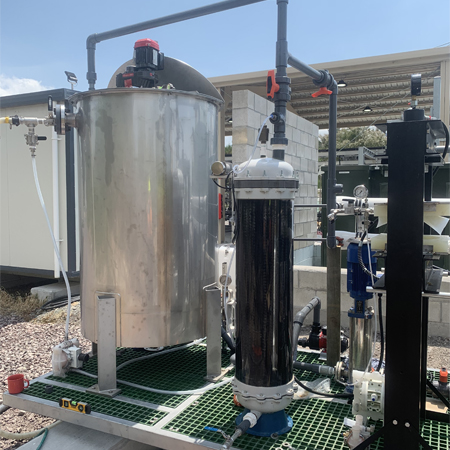 We anticipate that the conceptual process design will be complete in early 2022. A small pilot plant will then be constructed in order to process substantial volumes of lithium-bearing brines from a range of potential partners across the globe.
Our objective here is to establish the relevance of our process to different brines. Our work indicates that lithium brines globally can be grouped by their chemical parameters into four broad categories; continental brines, oil-field brines, low pH brines and geothermal brines. These can in turn be grouped into a series of sub-categories.
We have worked successfully at lab scale across a number of these categories, and in 2022 we will broaden our test programme to cover the brine spectrum more broadly while also moving from lab to pilot scale. This will guide us around which projects we should target for the application of our technology.
As we succeed at pilot scale, we will do exactly as we did on the silica journey; progressively scale up by a factor of 10 or more at each stage towards commercial production. The difference with lithium, in a world desperate for sustainable sources to fuel the electric mobility revolution, is the imperative to move rapidly.